This article will be a quick how-to guide to get you started using Sideline!
Once you've created your account, you'll be sent to your Inbox view
1. Inbox: this is where you'll find your calls and messages
2. Calling: call a new number, or one that you have saved to your contacts
3.  New Message: compose a new message
Otherwise, your inbox will include all current conversations along with any missed calls. 
*Since your calls go through your service provider, you can find any voicemail from within your device's call log
1. Compose a new message from the New Message icon in the upper right corner
Make sure you've allowed Sideline access to your contacts in order to choose who you're sending a message to
2. From the new message page, begin typing the name of your contact in the search bar OR tap the "+" icon for full access to your contacts
3. After tapping on the name of your selected contact(s), you can begin typing your message in the text box. Tap the purple send button to send it along!
Bonus: If you'd like to send a photo along with your message, tap the plus sign to the left of the text box. Here, you can choose to take a photo, or choose from your camera roll
When you receive a new message, the unread message will be in bolded font in your inbox. Tap on the message in your inbox to enter the conversation!
1. If you're placing a call to a saved contact, just tap on the contact icon along the top toolbar to search your contact list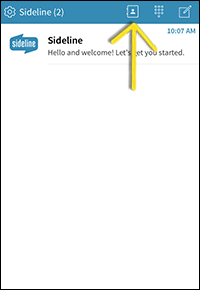 Either type the name of your contact in the search bar, or scroll until you find the contact from your list
2. Once you've chosen the contact, tap on their name to enter the contact details- to call, tap on the phone button on the right
3. If you're calling a number not in your contact list, type in the number, and tap on call! Easy as that :)
A blue screen will appear when receiving an incoming Sideline call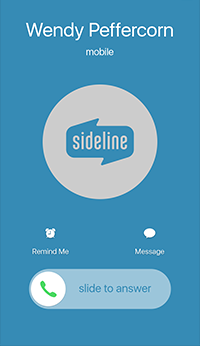 To personalize this, you can also add a profile picture for your contacts.
Just a glance on the screen and you know who's calling!
If you are not connected to data or do not have a contact saved in your contact list, you will see the following screen displayed
To keep your Sideline voicemail and native voicemails separate, you have two options:
FORWARD CALLS TO VOICEMAIL
In your Sideline Settings, enable the "Forward Calls to Voicemail" under the Options section. Anytime you receive a call to your Sideline number, the caller will be sent straight to the Sideline voicemail greeting you've set. 
LET THE CALL RING THROUGH - DON'T DECLINE OR MESSAGE REPLY
When you're receiving a call to your Sideline number, your phone will show "Sideline - 14085551234" OR "Sideline - Sally" for example. Instead of declining the call, let it ring all the way through to voicemail.
If you decline the call, it's possible your carrier will pick up the call, sending it to your native voicemail instead!
For other questions about using Sideline, send us a message , or submit a request from the help site!