When you're running around busy and can't answer the phone right away, you can enable an Auto-Reply message to let your callers know you'll be in touch!
Follow the steps below to learn how to set one!
Access your Sideline Settings
Tap on the Auto-Reply to Calls
First, enable the setting so you can start adding a Custom Reply
Add a name to the Auto-Reply to easily switch between your messages!
You will be able to customize 3.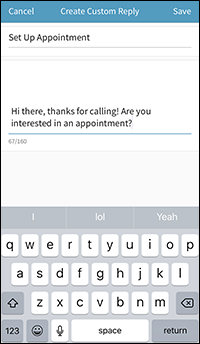 Once you're all done, you can set whichever one you like.
To help you keep track of which Auto-Reply message is enabled, it will be displayed right in your Sideline settings.
Adding an image to your Auto-Reply
To add an image such as your business logo to your Auto-Reply, tap the camera icon below.
*Make sure to enable Sideline's access to your camera.
Once you've uploaded your image, tap Save!
If you have any questions about Auto-Reply for calls or experience any trouble, please let us know!